Inspiring Kids to Learn
Through Fun Activities
Kidz World serves children ages six (6) weeks to twelve (12) years.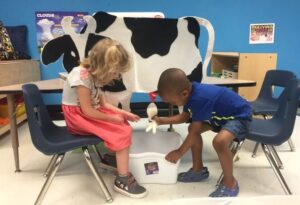 Breakfast is served from 8:00AM - 9:00 AM
Lunch is served from 11:00AM - 12:00 PM
Snack is served from 2:00 PM - 3:00 PM
Open Monday - Friday 7:00 AM - 5:00 PM except for the following dates:
New Year's Eve and Day
Good Friday
Memorial Day
July 4th/Summer Break - (Closed the full week of this holiday)
Labor Day
Thanksgiving Day and the day after
Christmas/Winter Break - (Closed Dec 24th-Jan 2nd)
The Center may close due to inclement weather. Please follow Kidz World on Facebook for notification of closing. In the event the center closes early, parents will be contacted. Please keep your phone number current on our files.
All children must be dropped off before 9:00 AM and picked up before 5:00 PM Children arriving late will not be able to stay but may return the next day. Late fees will be added for children not picked up on time.
Contact the center to advise of late arrival due to Dr.'s appointments.
Nap time is from 12:00-2:00 PM
The Center is focused on the child while providing a supportive environment for both parents and teachers. Your involvement is both welcomed and encouraged. We keep you informed of classroom and Center activities through ProCare Connect, weekly newsletters, and monthly event calendars. There are also bulletin boards throughout the Center that may have special notices for parents.
At Kidz World, we really don't need an excuse to celebrate as every day is a celebration of life! We encourage the celebration of all major holidays and all birthdays. The monthly calendar shows many days where the kids can have loads of fun such as pajama day, crazy sock day, backwards day, western day, Disney day... and so many more!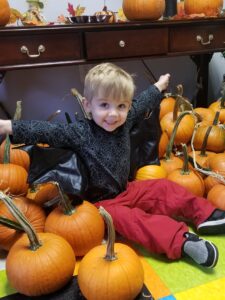 What better way to learn than get hands on with it? Our children love to make things with their tiny hands. Nothing brings a smile to a face quicker than seeing a finished project.